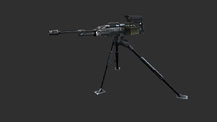 The Western Coalition M333 (nicknamed 'threesome' or 'triplet' by the troops) is the successor to the old heavy machine guns of the twentieth century. It is lighter in mass than its venerable grandparent, but retains the same level of immense firepower.
The standard Western Coalition heavy machine gun, the M333 can be encountered mounted on tripods on the battlefield (set up ahead of time by infantry formations), and on some vehicles (such as the LVS light armor vehicle).
The threesome does not have the same high rate of fire as other, lighter machine guns, but it more than makes up for this in the damage its heavy slugs do.
The M333 sports a low-power scope
--
Field Guide
text entry
Overview Edit
The M333 Threesome Machine Gun is an improvement on the older .50 BMG machine gun used by NATO forces for over a century.
Following the development of the KL Mounted Heavy Machine Gun by the RSA, the Western Coalition responded in kind with the development of the M333.
The Coalition's standard transport, the LVS has a mounted M333 turret on the roof cupola. The gun is also supplemented in several DLC maps with rocket pods.
Statistics Edit
According to the Field Guide, the M333's stats rate as follows:
Weapon Range: 4 of 5
Damage: 2 of 5
Rate of Fire: 3 of 5
Ammunition: 12.7mm Heavy Round
Feed Device: 100 Round Belt
See Also Edit
Further Reading Edit
Ad blocker interference detected!
Wikia is a free-to-use site that makes money from advertising. We have a modified experience for viewers using ad blockers

Wikia is not accessible if you've made further modifications. Remove the custom ad blocker rule(s) and the page will load as expected.